Overview of LPI
Over three million people have used The Leadership Practices Inventory (LPI) as a first step to reaching their personal leadership best, clearly demonstrating what three decades of ongoing research affirms: that leadership is a practice that can be taught and learned by anyone. Effective leadership is not an inborn skill available to a select few. Rather it is a set of observable behaviors that, with deliberate practice, can help everyone be more effective and make more of a positive difference in the workplace, in the community, in the world.

No matter where your leaders are along their leadership development journey, look to our LPI assessments and facilitator materials to support the important work you do in developing, nurturing, and empowering our emerging leaders.
What Does LPI Measure?
Applying the proven principles of Kouzes and Posner's acclaimed Five Practices of Exemplary Leadership®, LPI enables individuals and organizations to measure their leadership competencies and act on their discoveries. Leaders will gain deep insight into how they see themselves as leaders, how others view them, and what actions they can take to improve their effectiveness.
Who is LPI for?
Anyone interested in becoming a more effective leader and learning to apply Jim Kouzes and Barry Posner's acclaimed Five Practices of Exemplary Leadership® model to real-life challenges and opportunities will benefit from the Leadership Practices Inventory (LPI). This comprehensive suite of LPI tools includes leadership assessment instruments for both working adults and students with little or no work experience.

Supporting the authors' core philosophy that "Leadership is Everyone's Business," LPI Online underscores the belief that anyone can learn to be an effective leader if they are given the right feedback and tools.
"The LPI assists me in aligning what I believe I am doing as a leader with what others believe about my leadership."
—Sterling Gross, Executive Development, Luxottica, North America
What Does the LPI Measure?
About the Inventory
How this assessment was verified
What you'll learn from the Leadership Practices Inventory
The Leadership Practices Inventory Model
Complete Product Collection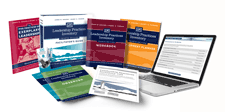 Leadership Practices Inventory Facilitator's Guide Set, 4th edition Available Now


Learn More
Related Products